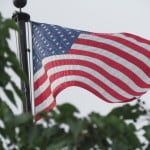 The prophets, Isaiah and Jeremiah, were not known for simply going with
the flow.  These men of God made a bold stand against the wickedness
and corruption of their day.  Sure, they suffered the consequences of
their actions, but in light of eternity they also reaped the eternal
rewards for their faithfulness.  
As we approach another holiday of
celebration of our independence as a nation it is difficult to find
men such as these.  There are many who serve as mere musicians
on the deck of a doomed ship to comfort the hearts of those destined for destruction in an icy, watery grave.  But this isn't the Titanic, and there are enough lifeboats to save EVERYONE!  The Bible still says,
"For whosoever shall call upon the name of the Lord shall be saved."
Sadly, I don't know whether our backslidden nation will ever turn
around. The confidence of the people in our highest court is probably
at its lowest… and no wonder for they no longer judge according to
the Constitution or conscience.  Our lawmakers and judges have become
a reflection of the people who put them there.  Their laws and
opinions are putting our nation at risk for Divine judgment.  Dr. Tony
Evans posted a statement on his Twitter account this morning to which
I concur: "When one nation under God becomes one nation apart from
God, expect the consequences."  If God's Word be true, our nation is
no longer destined for greatness, but grief.  We have traded decency
and dignity for dishonor and derision.  While I wish for God to BLESS
America, my prayer today is, "God, BE MERCIFUL to America."
Meanwhile, there is no lack of weak priests and spineless prophets in
this hour.  The need is great for another Elijah, Isaiah, or Jeremiah.
This hour calls for another fearless John, uncompromising Stephen or
trailblazing Paul.  
"Be strong and of a good courage, fear not, nor be
afraid of them: for the LORD thy God, he it is that doth go with thee;
he will not fail thee, nor forsake thee." ~ Deuteronomy 31:6