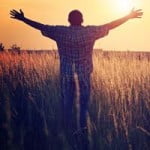 What a time we had under the ministry of Brother Messer!  Our hearts were lifted as we were reminded that Jesus reigns even now, and we are a part of His kingdom.
Jesus acknowledged that He had a kingdom as He stood before Pilate, but His kingdom at that point was not merely of this old world.  As our risen Savior He lives and reigns for ever more.
Satan tries his best to negatively affect our spiritual walk, but if we have been crucified with Christ, and are dead to the world, then Christ reigns in our lives and this world has no influence on us.
If we are truly Christ's, and He reigns, then we also reign with Him.  As kings and priests in the kingdom of God, we must live in a higher realm.  If we still struggle inwardly with our flesh and outwardly with others in the body of Christ, then we are not reigning as God intends.  As a result our effectiveness as the body of Christ is greatly hindered.
The devil wants us to live in this weakened state.  He doesn't want us to live in victory.  His desire is for us to struggle under a mindset of defeatism and servitude to him.  BUT HE IS A DEFEATED FOE!  Our Lord is King Jesus, and He reigns!
Let us always remember our position in God's kingdom and walk in victory.  We shall inherit the earth.  Be an overcomer today!